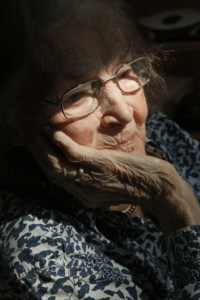 When you have an older loved one who lives in another state, it's tough to keep him or her safe and happy. You don't want your mother or father to be isolated, but you can't always pack up and move closer.
Sometimes, the best option is having your elderly loved one move into your home or a care facility, whether it be a nursing home, an assisted living or managed care facility. That move can be one of the most stressful and fearsome of a person's life.
When your mother or father moves out of the home they may have lived in for decades, it falls on you to help sort out their belongings and downsize for the move. These items have been collected in their home over a lifetime and may be especially difficult to let go of.
Understand that the move can be seen as an admission of frailty and serious illness that he or she is not ready to accept. The loss of independence can hit a person hard. Make sure you consider his or her feelings in the process. On the positive side, it's also a lightening of his or her load — a chance to make a new home and meet new people. If your loved one is active at all, he or she might be able to participate in planned activities with other people his or her own age.
A 2014 study showed that of people older than 70, 30 percent had not gotten rid of any possessions in the past year, either by giving them away or donating them. However, more than half of the respondents surveyed believed they had too many belongings. For example, 56 percent of those ages 50 to 59 and 62 percent of those 70 to 79 said they have more things than they needed.
"Having too many things is an obstacle to (older adults) being able to move to or live somewhere" smaller that better suits them, said lead author David Ekerdt, director of the gerontology center at Kansas University in Lawrence, as quoted by Reuters.
Even those who are very organized are often surprised that they've accumulated so much. It can take a long time to get their stuff down to a manageable amount. Elder adults often feel that if they give certain items up, they lose the memory associated with it. Some seniors tend to develop hoarding tendencies later in life. One study showed that most elderly hoarders were women, and extensive clutter was associated with significant impairment, interfering with basic hygiene, and posed a significant physical threat to their health.
If your elderly loved one needs to pare down his or her belongings, you can help. If you're doing it from afar, you just need to do a little extra planning.
Tips for helping your senior loved one downsize:
Start early — Start having conversations with your parent at least six months to a year before you think he or she will have to move. If you live far away, this means a lot of phone conversations. Understand that he or she will likely be resistant at first, but might eventually come around.
Be the advocate — Make sure your mom or dad knows that you're keeping their best interest in mind. You're not trying to force them "into a home," you're trying to make their life easier and more liveable.
Plan your visits — If you can visit regularly, make a plan with your parent that you'll work on one room at a time so that the task isn't quite so overwhelming. If there is a primary caregiver, such as a sibling or other family member, contact him or her in advance and find out what you can do to help.
Ask yes or no questions — "Is this something you want to keep?" "Do you use it?"
Offer to scan photos and documents — Tell your parent that once the photos are scanned, they can be kept forever and shared with other members of the family. That will make him or her feel better about not keeping boxes of photos.
Call often — Making regular contact helps you assess the situation. Be in contact with nurses and other caregivers to see what you can do to help.
Hide your frustration — Taking care of a loved one in cognitive decline can be frustrating and exhausting. But don't take it out on mom or dad. They can see that you're stressed, so be careful not to let them think that they have become a burden to you.
Remember to spend time with him or her — In our haste to get everything done and arrange for care, we often forget to actually make time. See a movie, play a game, work a puzzle together or just sit and talk. Not only is it important to learning everything that's going on with his or her health, but your time together and your relationship is precious.
Photo by Pixabay