How to Buy A Condo, Townhouse or Single Family Home in Carroll County, MD
Buying a townhouse, condo or single family home in Carroll County, Md is one of the most exciting, and frequently stressful, experiences you may ever go through. This holds true whether you've bought many homes or you're looking to buy your first; whether you're in the market for a new primary residence, or an investment property. Today's real estate market can offer more opportunities, yet can be filled with more risks than ever before. There are a multitude of factors to consider and decisions to make. When buying, whether considering a detached home, a townhouse, or a condo, it's crucial to have all the available resources necessary to make a well-informed decision. It's also important to enlist the help of a trusted Realtor® who will be able to provide expert guidance during each step of the buying process.
1. Define Your Goals, Research Your Options, Make Your Plans
Since buying a home is such a big step, it's very important to educate and prepare yourself as much as possible. This means clearly determining the reasons you're buying and what kind of home you're looking for. Since buying and financing a home are so closely related, it also means examining your current financial situation and projecting how much you can afford. After you've answered these questions, even tentatively, you'll be in a better position to research housing and mortgage options, and create an action plan and timelines for moving forward. Although it is possible to do this yourself, consulting with an experienced REALTOR® right from the start will help you avoid the many pitfalls of "doing it yourself".
2. Hire a REALTOR®
Buying real estate is a complex matter with many factors to consider since no two homes or transactions are alike. Moreover, with all the unique opportunities and potential difficulties of the current market, it's more important than ever to contact a REALTOR® (who will also act as your buyer's agent) when you first start thinking about buying a house. Why? So you have an expert to guide you through the property search, financing, negotiation and transaction processes, an expert who will look out for you and your best interests.
How Much Will a Realtor® Cost ?
It's so important to hire a Realtor® who will also be your buyer's agent. Why? So you have representation, someone to guide you and look out for YOUR best interests. The listing agent works for the seller and advises the seller. A listing agent can NOT advise a buyer. Did you know there is ZERO CHARGE for this service? You will NOT pay your buyer's agent a dime. The majority of Realtors are paid by commission, they do not receive a regular paycheck. In Maryland, the seller is who pays that commission, not the buyer. Will you receive the service you deserve? Absolutely, if you hire the best agent to represent you.
How to Choose a Realtor®:
Realtor® vs a Real Estate Agent
There are real estate agents and then there are Realtors®. What's the difference? Anyone can obtain a Maryland real estate license and become a real estate agent. A Realtor® has taken it a step further and joined the National Association of Realtors. This national affiliation requires specific education on a regular basis, and holds Realtors® to the Realtor Code of Ethics. This Code of Ethics is very strict and ensures you are treated fairly and with the upmost level of trusted service. It ensures your needs come first.
Accredited Buyer's Representative
Some Realtors® have obtained a designation known as ABR, which stands for "Accredited Buyer's Representative". This is an additional level of education and training. A Realtor® who has achieved this level can best meet the specific needs of assisting and guiding home buyers. Buyers can rest assured they will be guided in choosing the best house to meet their needs and budget, and in making the best offer on a house.
Another layer of training some Realtors® achieve is that of "Pricing Strategy Advisor (PSA). When you work with a Pricing Strategy Advisor, you will receive the best guidance in how much to offer, regardless of whether you're buying a condo, townhouse or single family house. Offer strategies should be different. For example, offers during a buyer's market will be different from offers during a seller's market. Offers for newly listed houses will be different from offers on houses that have been listed for awhile. A Pricing Strategy Advisor will guide you in how to make the best offer so you have the best chances of "getting the house".
Senior Real Estate Specialist
Are you over age 55? If so, be sure to hire a "Senior Real Estate Specialist" (SRES). A Realtor® with this designation understands the needs of this group of homebuyers. Whether it's upsizing or downsizing, this group's needs and challenges can be different from the needs of other groups of home buyers. A Senior Real Estate Specialist can provide the guidance and resources that are often required.
3. Get Pre-Approved for a Loan
You will need to get pre-approved for a loan before you start viewing houses with the serious intention of buying. The pre-approval process involves contacting a lender and authorizing them to examine your current financial situation and credit history. The lender will use your financial information (tax returns, W-2's, pay stubs, and credit report) to determine if you meet the criteria to be pre-approved. After you're pre-approved, you will receive a pre-approval letter detailing the maximum amount you can borrow to buy a house. Consult with your REALTOR® for recommendations on which lenders to contact, if you don't already have some in mind. Why? Because a local REALTOR® knows which lenders will best meet your needs. There are a variety of loan programs, it's not "one loan fits all". Not all lenders offer the same loan programs. You want to find the one that will best meet your needs and offer the loan that is most affordable for you. Ideally, it's advisable to contact 2-3 lenders so you can choose the one who can best meet your needs.
      The Benefits of Pre-Approval Include:
You'll know what type of loan (conventional, FHA, USDA, or VA) will be best for you, and how much you can afford. You might even be eligible for the Maryland Mortgage Program, the FHLB Grant Program, or another special program that a lender might offer. This knowledge is critical for planning ahead and determining what type of home will best fit your budget. As a qualified motivated buyer, you'll be taken more seriously when you make an offer.
4. View Homes and Select "THE ONE"
Simply put, the key to the home search process is knowing what you're looking for. Among other things, that means distinguishing between "must-haves" and "like-to-haves". The chances of finding the house with everything on "your list" are rare. Expect to find houses that have some, but not all, of the features you desire. Then, expect to make some important decisions: What are willing to live without? What items on your list are you willing to give up? It's usually a matter of "give and take". You end up giving up some of the items on your list in order to have other items.
What's the Best Way to Search Houses for Sale?
There are many benefits to starting the search process at a real estate website. You can view many homes and their details, take video tours and access neighborhood info. However, not all real estate websites contain all the homes for sale. Real estate companies must pay fees to have their listings appear on sites such as Realtor.com, Zillow, Trulia and others. The only place where all listed homes can be found is in the multiple list. A REALTOR® has access to that list and can make sure you are always up-to-date. You will not only find out which houses are for sale in Maryland, but will also be among the first to know about houses that are "coming soon." You won't find those houses anywhere else!
It's also important to view homes in person, when feasible. If you are relocating and unable to tour houses in person, make sure you choose a REALTOR® who is willing to look at houses on your behalf and thoroughly communicate the details and specifics of the property. FaceTime is a popular tool to use in this situation. Zoom meetings are a great way to discuss details and have your questions answered. While the property details may seem similar online, homes can be very different in terms of layout, design, workmanship and other aspects.
5. Make an Offer and Negotiate with the Seller
Once you've found the condo, townhouse or single family house you'd like to buy, it's time to make an offer. The Maryland Association of Realtors has contracts that are used for transactions in Maryland. These contracts enable you to specify a sales price and also allow the inclusion of clauses specifying various terms of purchase, such as the closing and possession dates, your deposit amount, and other conditions.
You should carefully review these clauses with your REALTOR® to be sure they accurately express your intended offer. After your offer has been written, your REALTOR® will forward it to the seller's agent. After reviewing your offer and any additional offers the have been received, the seller will either accept your offer, reject it, or counter it to initiate the negotiation process.
If the seller does respond with a counter-offer, negotiations may be exchanged between you and the seller until a mutual pending agreement is reached or the negotiations break down.
6. Secure Your Financing
Once you have a pending agreement, it's time to return to your chosen lender to finalize mortgage details. You will need to officially apply for your loan and provide any and all required documentation.
7. Navigate Inspections & Repairs
Inspections are often included in the contract of sale to buy a house or condo in Maryland. When a house is being sold "as is", you can have various inspections completed in order to learn about the house. If the house ends up having issues, you can typically change your mind about buying the property, and "back out".
If the property is not being sold "as is", expect to have any inspections completed (at your expense). Then, ask the seller to correct any items of concern. The seller is never obligated to make any corrections or repairs at this stage. However, items of a structural, health or safety issue are the most common types of priority repairs.
8. Review HOA Documents
Is the condo, townhouse or single family home you chose in a community where there is an HOA, condo association, or both? If so, the seller is required to provide the most recent copy or copies of the HOA documents / condo documents at this point. You will have 5 days to review them so you know what is expected. If there is anything you do not agree with, you may terminate your sales contract and have your earnest money deposit returned to you. If you do not terminate your sales contract, you may not change your mind later.
9. Close the Deal
If you've taken care of everything connected with purchasing your new home, taking ownership should be a positive joy with no surprises. Key steps to the closing, also referred to as the "escrow" or "settlement", include:
The final walkthrough – you will be given the chance to look at the home one last time to make sure it's in essentially the same condition as when you signed the sale agreement. This means there can be no new damage to the house, the items that were supposed to be left behind are still in the house, the appliances that were functional when you first looked at the house are still functional, and the house is "broom clean". Don't expect the house to be professionally cleaned before you move in, it's not required.
The settlement – on the Closing date you'll meet with a lawyer, or escrow agent to verify and sign all the paperwork required to complete the transaction. The settlement will include paying your closing costs, fees, property adjustments and transfer taxes. At that point, you'll receive title to the property and copies of all documentation pertaining to the purchase.
Oh, and one more thing – you'll get the keys!
How Melissa Spittel Can Help YOU
Melissa is the local real estate expert with the knowledge and experience to guide you through the entire process of buying a place to call home. Melissa is also a…
Realtor®
Accredited Buyer's Agent (ABR)
Pricing Strategy Advisor (PSA)
Senior Real Estate Specialist (SRES)
You should expect the absolute best guidance and level of service. Contact Melissa to get started today!
Don't Forget to Download Your FREE copy of the
"Ultimate Home Buyer's Guide"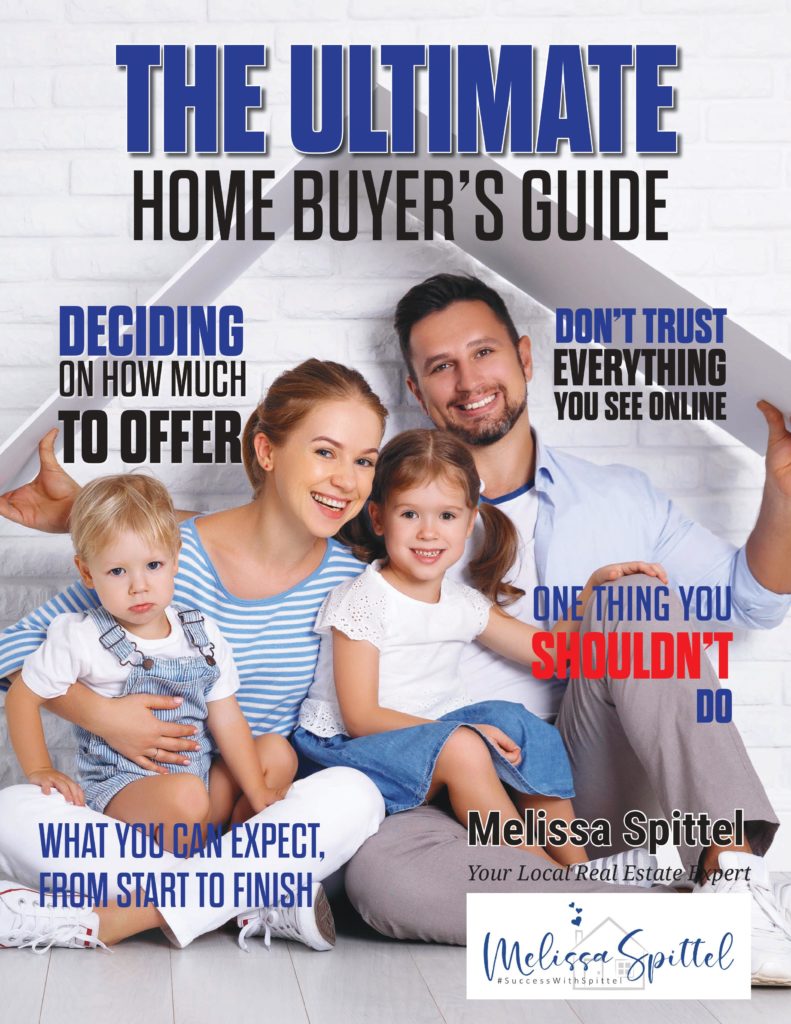 Ask Your Questions Here…